Mikel: Current Chelsea Team Lack True Leaders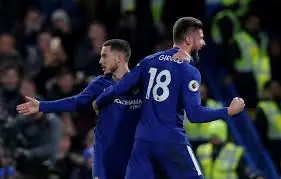 John Mikel Obi believes Chelsea are missing their old guards following the team recent struggles in the English Premier League this season, .
The Blues started the season in convincing fashion battling for the title with Liverpool and Manchester but later fizzled out of the race and are now fighting for a top four place.
Mikel spent 11 glittering years at Chelsea winning a number of titles including the Champions League with the Blues.
"When I watch them now, they're fantastic players but I don't see leaders. During our time I could scream at Didier Drogba or Lampard," Mikel told the Sun.
"I was 24 or 25 years old but I could voice my opinion and it would be heard.
"Now when I watch them, there's no one talking to each other, taking responsibility of being the leader. You need that edge and right now that's what they're lacking."
Two years have passed since he left Chelsea for China but the Champions League winner made his return to English football a fortnight ago after signing a short-term deal with Boro.
The midfielder explained: "I look at my time in China as an experience — it wasn't bad.
"Everyone was so nice but sometimes you miss home and that's what I did. I missed home and wanted to come back."
Mikel has been quizzed by new team-mates on his trophy-laden years in West London but he insists his focus is on the future and taking Boro back to the top tier after two years in the Championship.
He added: "I'm just getting to know the players. You have to watch and see who has a strong mentality, who has the same view and goal as you.
"The good thing is everyone here wants to get promoted and has a winning mentality and we want to take that a little bit higher.
"This is a Premier League club for me and that is why I am here."